We checked out of Gill Brow Farm and had a REAL British breakfast which consists of: sauteed mushrooms, baked beans, hacon (ham/bacon), poached eggs, boiled tomato, lots of toast, and of course, tea. After breakfast, we drove a whopping two hours to Hadrian's Wall where Dad dropped Mom and I off at hill one and we hiked 3 1/2 miles to hill three. Miserable four hours it was because it rained, hailed, was muddy and I slipped about a dozen times. Oh, and I hiked the whole thing in jeans and Sperry's. The history behind the wall is super amazing but the experience was tainted.
Breakfast.
Hiking the wall.
Roman fortification.
Hiking it. What up.
Famous filming spot of "Robin Hood: Prince of Thieves"
Aftermath.
After Hadrian's Wall, we drove to York where we checked into Queen Anne's Bed and Breakfast. Tiny, cute little place with clean sheets and a real hot shower. We got some clean, dry clothes on and walked into town to a little place called The Shambles, an old butcher lane with houses hanging over. We ate a delicious dinner at ASK Italien after being soaked by another rainstorm. I had the most delicious pizza topped with a white base, ham, mushrooms, onions and dollops of fresh cream. It was supposed to be a personal sized pizza but I ended up sharing most of it with my mom and Henry.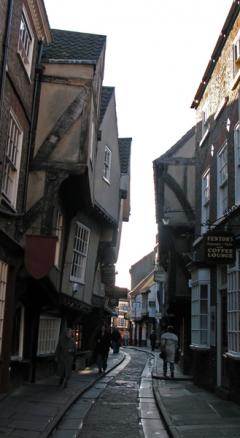 The Shambles.